Since 1981, Maluhia Adult Day Health Center opened its doors to frail elders living in the community. The Center is certified by the State of Hawaii, Department of Health, and is one of several outpatient services offered by Maluhia.
Our Goals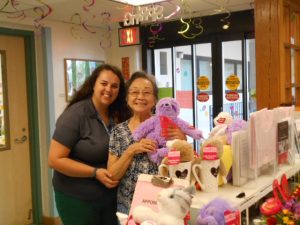 To keep our participants as healthy, happy, and independent as possible by providing a safe, supportive, and stimulating environment.
To provide support to families and/or caregivers. We encourage a partnership with the participant, family, caregivers, physician, and Center staff in an effort to maintain the dignity and quality of life of the participant.
Services Offered
Social and recreational activities — individual, small group, large group
Health observation and monitoring — vital signs, fluid intake, meal consumption, medications, wound care, oxygen therapy, etc.
Supervision and assistance with personal care, as needed
Administration or supervision of medications
Nutritious lunch and snacks for regular or modified diet(s). Assistance provided as needed during meals/snacks. Participants needing tube feeding can be accepted into the program.
Take home dinner if requested (additional charge)
Personalized interdisciplinary team care planning
Caregiver education and support
Referrals to community resources
Assist with Medicaid and SNAP (i.e. Food Stamps) applications as needed
Rehabilitation services (i.e. Physical Therapy, Occupational Therapy), range of motion as needed
Pharmacy medication delivery service
Bathing service (additional charge)
Monthly haircut (additional charge)
Assist with enrollment in Medicare Part D as needed
Our Staff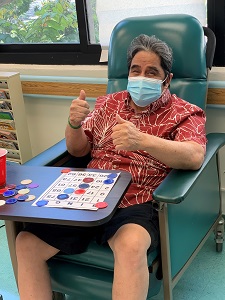 Our specially trained, caring staff includes:
Social Worker
Recreational Therapist
Recreational Therapy Aides
Dietitian
Licensed Nurses
Certified Nurse's Aides
Eligibility Requirements
55 years of age or older
Is in need of supervision or socialization during the day
Center location
1027 Hala Drive
Honolulu, HI 96817
Located in the basement level of Maluhia
Hours of service
Mondays through Fridays  –  6:45 am — 5:30 pm
Saturdays  –  8:00 am — 4:30 pm
Closed Sundays and all State holidays
Fees
$95.00 per day
Participants who are Medicaid eligible may apply through the QExA Ohana Health Plan (1-888-846-4262) or QExA United Healthcare plan (1-888-980-8728). For detailed information, please contact our Social Worker at 832-6130 or 832-6120.
How to Apply
Scheduling a tour of the Center is the ideal way to meet the staff and be introduced to the activities. We may also mail an application and a brochure. Please contact us at: (808) 832-6130