Since 1981, Maluhia Adult Day Health Center opened its doors to frail elders living in the community. The Center is certified by the State of Hawaii, Department of Health, and is one of several outpatient services offered by Maluhia.
Our Goals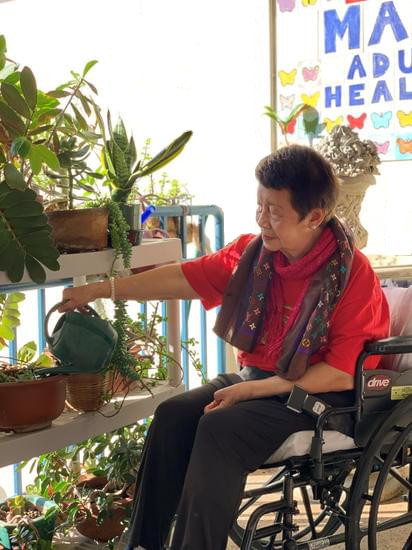 To keep our participants as healthy, happy, and independent as possible by providing a safe, supportive, and stimulating environment.

To provide support to families and/or caregivers. We encourage a partnership with the participant, family, caregivers, physician, and Center staff in an effort to maintain the dignity and quality of life of the participant.
Services Offered
Nursing Services Medical management and nursing services, monitoring, and treatments performed by Registered Nurses.

RN provides personal monitoring of each participant throughout the day.
RN provides comprehensive nursing assessments to monitor and maintain optimal health & cognitive status.
RN provides health education for caregivers to provide best care at home.
RN monitors direct care (CNA) staff to ensure quality participant care in personal care, activities, and bathing.
Medical treatments administered include: Medication Administration, Diabetes Management & Insulin Administration, Foley Care & Monitoring, Ostomy Care, Oxygen Therapy, Blood Pressure Monitoring, Fluid Intake/Output Monitoring, Monitoring of Weight & Diet, Dressing Changes, Skin Assessments & Wound Care, Tube Feeding, and Airway Management.

Therapeutic Activities

Social, recreational, cognitive & therapeutic activities planned & directed by Recreational Therapist designed to stimulate & enhance daily life.
Individual, small, and large group activities.
Daily exercise that includes walking, range of motion, and stretching.
Arts & Crafts, Special Events, Pet Visitation, Holiday Celebrations and more!
Community outings, specialized classes, and entertainment activities. (Availability based on current COVID-19 situation)
Monthly activity calendar & newsletter.

Social Work Services MADHC provides medically related Social Work services to help participants & caregivers maintain mental and psychosocial well-being.

Caregiver education, support groups and counseling.
Assistance with Medicaid & Medicare Part D resources & other community resources such as SNAP (i.e. food stamps)
Ongoing assessment and recommendations by Social Worker for participant's social and emotional needs.
Referrals and assistance for overnight respite options, skilled nursing care, long term care, and hospice.

Dietic Services

Dietitian approved nourishing and well-balanced meals and snacks to compliment good nutrition, health, and needs.
Therapeutic or Modified diets are available and include: Pureed, Chopped, Minced, No Added Salt, Diabetic, Low Salt, Low Fat, Renal.
Participants can modify meals based on personal preference (Kosher, Vegetarian, etc.) Participants who require feeding are assisted by Certified Nursing Assistants.

Other Services

Pharmacist medication review & consultation.
Pharmacy medication delivery service.
To Go Express Meals – For meals at home.
Physical & Speech Therapy Services.
Maluhia Geriatric Physician Services – on site Physicians providing comprehensive senior care. Accepting most insurances and no Physician referral required. Inquire for more information.
Our Staff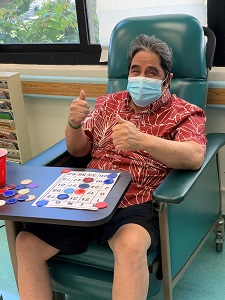 Our specially trained, caring staff includes:
Social Worker
Recreational Therapist
Recreational Therapy Aides
Dietitian
Licensed Nurses
Certified Nurse's Aides
Eligibility Requirements
55 years of age or older
Is in need of supervision or socialization during the day and/or caregiver is in need of respite
Adult Day Care & Adult Day Health level participants eligible for program
Center location
1027 Hala Drive
Honolulu, HI 96817
Located in the basement level of Maluhia
Hours of service
Mondays through Fridays  –  7:30 am — 5:30 pm
Saturdays  –  temporarily close, please inquire
Closed Sundays and all State holidays
Fees
$111.00 per day (2 day per week minimum)
$30 Bathing Service
Participants who are Medicaid eligible may apply through the QExA Ohana Health Plan (1-888-846-4262) or QExA United Healthcare plan (1-888-980-8728). For detailed information, please contact our Social Worker at 832-6130 or 832-6120.
How to Apply
Scheduling a tour of the Center is the ideal way to meet the staff and be introduced to the activities. We may also mail an application and a brochure. Please contact us at: (808) 832-6130 or email at MaluhiaADHC@hhsc.org